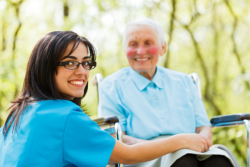 Why a Home Care Agency?
A home care agency allows your loved one to stay at home while providing the security and companionship he or she desires. Cairasu Home Care provides an individualized approach to caring for your loved ones. Our licensed CNAs and caregivers genuinely care for the safety and companionship of your parent or grandparent. Also, we want to help you feel secure knowing that your loved ones are safe while allowing them to live peacefully in their own home.
Why Cairasu Home Care?
You don't want to place your loved one in an uncaring retirement home where you are never guaranteed of the one-on-one care you can get with Cairasu Home Care Agency. We pride ourselves on individualized care at competitive prices. Our home care agency is affordable and the level of service is unmatched. Let us help you provide just the right level of assistance and companionship while you are assured of the professional, friendly care only Cairasu Care Agency provides.
Our services are flexible and dependent on your loved one's needs. Just take a look at what we can offer you:
Daily Assistance
Our home care agency will help your loved one with all of the daily tasks, like putting on and changing clothes, bathing, toiletry assistance, feeding and medication reminders and so on.
Tailored Level of Care
We will help your loved one maintain their independence by providing just the right level of assistance they require. We encourage our seniors to stay active in their lives by doing all that they can by themselves and we'll help with the rest. With long-term care, we will regularly update our approach as your loved one's health changes, so their comfort is always well kept.
Home Care/Chore Help
Is your senior loved one lived all by themselves in their house? We provide services that assist them with cleaning, cooking, laundry and other chores to keep their home orderly and safe for habitation.
A Friendly Caregiver
We also provide much-needed companionship, especially if your loved one stays in your home by themselves. We provide a listening ear, a comforting presence, and a pleasant demeanor. We are always professional, courteous and friendly. We play games, have conversations and provide activities that help your grandma, grandpa or elderly parent stay mentally active and social, all in the comfort of their own home.
We offer short-term care, long-term care, overnight stays to 24-hour watch or whatever you need to feel comfortable knowing your loved one is safe and happy. Our home care agency will individually assess the needs and level of assistance required. We will then provide an experienced, friendly compatible caregiver for you that will help your loved one maintain his or her independence with the assurance you need that your loved one is in good hands.
If you have any questions on why we are the best home care agency or would like to begin our service, please call us at 608-622-7015 and talk to one of our friendly and supportive specialists today.